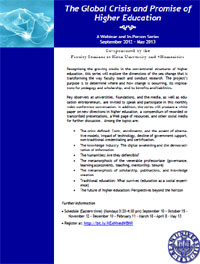 The Kean University Faculty Seminar in partnership with 4Humanities will be running an online faculty and professional webinar series on "The Global Crisis and Promise of Higher Education" with eight video conference meetings September 2012 to May 2013. (See announcement flyer) Designed to be a think tank on changing directions in higher education, the webinar series will feature key observers at universities, foundations, and the media, as well as education entrepreneurs. Speakers include educational leader and online learning specialist Debbie Morrison on "The Future of Higher Education and How Educators Can Remain Relevant" (Sept. 10, 2012); James Lerman on "Futurecasting Higher Education's Ecosystem: How Do I  Fit In?" (October 15, 2012); and 4Humanities co-leader Alan Liu on "Advocating the Humanities: Values and Strategies for the Digital Age" (Feb. 11, 2013). Other topics currently planned include:
The crisis defined: Costs, enrollments, and the ascent of alternative models, impact of technology, decline of government support, non-traditional credentialing and certification.
The knowledge industry: The digital awakening and the democratization of information
The humanities: Are they defensible?
The metamorphosis of the venerable professoriate (governance, learning assessments, teaching, mentorship, tenure)
The metamorphosis of scholarship, publications, and knowledge creation
Traditional education: What survives (education as a social experience)
The future of higher education: Perspectives beyond the horizon
Schedule (all times Eastern Time): (Mondays, 3:20-4:30 pm) (Time zone converter at http://bit.ly/2times2) – September 10 – October 15 – November 12 – December 10 – February 11 – March 18 – April 8 – May 13.
Participants can register at http://bit.ly/KEANhiedWBNR. Participants will receive AdobeConnect login instructions by email allowing them, on the day of a session, to log in to the webinar at 3 pm EDT – 20 minutes before the session – to set up video and audio connections.
The webinar series is co-chaired by Drs. Dennis Klein (dklein@kean.edu) and Jim Lerman (jlerman@kean.edu).