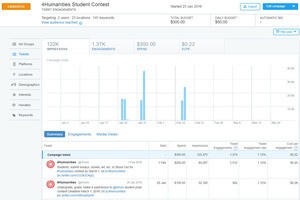 4Humanities.org collected multilingual keywords and Twitter hashtags (jump to list) for paid social-media campaigns on Twitter and Facebook to promote its Shout Out For the Humanities student prize contest in 2016. In the case of Twitter, promoted campaigns place specific tweets in the timelines and also search results of people in nations and demographic sectors selected for the campaign who either follow or search for those particular keywords/hashtags. In the case of Facebook, promoted campaigns place ads in the view of Facebook users similarly targeted by nation, demographic sector, interests, and so on.
Because these keywords/hashtags may be of use to others engaged in social-media advocacy for the humanities, 4Humanities is posting them here. We will update the list with new languages and terms as suggested to us.  (We hope to extend this list to other languages and terms. Suggestions for keywords/hashtags in any language may be emailed to ayliu@english.ucsb.edu.)
Currently, the keywords/hashtags in this list are chosen to reach an audience of higher-education students and faculty as well as others in society interested in college-level humanities. Expanded, variant , or component lists targeting different sectors of education, society, professions, age groups, genders, races, ethnicities, etc. could also be created in the future to facilitate humanities advocacy—tempered by awareness, of course, that the mission of the humanities is in part to blur such categories. (For social media campaigns, the truth mission of the humanities—to nuance rather than police the boundaries of humanity—conflicts with the rhetorical need to address digital audiences identified in discrete database fields. Such a contest between the truth and rhetorical goals of the humanities, of course, is actually an old one, going back to Plato and the argument between philosophy and rhetoric.)
Practical Guidance for Paid Social-Medial Campaigns for the Humanities: Analytics for the 4Humanities social media campaign may be helpful as a gauge for others interested in promoting the humanities:
Twitter campaign: 4Humanities configured the Twitter campaign for its "Shout Out For the Humanities" student contest to target 24 nations in the socio-geographical West, East, and South. We set a throttle of $50 USD maximum expenditure for promoted tweets each day up to a maximum total expenditure per promoted tweet of $100 (increasing the total maximum when and as needed for additional tweets designed for repeated bursts of promotion).  Fueled by our list of keywords/hashtags, a buy of $50 USD per day resulted in about 50,000 total "impressions" for that expenditure (people seeing the tweet). The "engagement" metric for these impressions was about 200 (people clicking through to the URL in the tweet, retweeting, "liking," etc.).  Other Twitter campaigns targeting different numbers of nations and demographic sectors will have different expenditure rates per day.
Note: when conducting a promoted social-media campaign, it is useful to accommodate users' typical synonyms and typos for words. Twitter promotions automatically suggest including in a campaign variant terms, including typos, related to designated keywords and hashtags.
Facebook campaign: 4Humanities configured its Facebook campaign to target a similar number and range of nations as its Twitter campaign.  In the case of Facebook, we set a daily throttle of $2 USD per day up to a total maximum of $50 for each burst of promotion (repeating the promotion for two separate ads).  (We set a lower daily throttle compared to our Twitter campaign because the cost per-engagement in a Facebook campaign is apparently lower by about one decimal order of magnitude than the same cost per-engagement for a Twitter campaign.) The Facebook posts we promoted reached a total of between about 10,000 and 15,000 people each,and generated respectively between about 2,500 and 10,000 "engagements" ("likes," "shares," etc.).
Acknowledgements: 4Humanities collected these keywords and hashtags by consulting scholars and others fluent in the relevant languages and in social media. Our special thanks to Rens Bod, Molly Des Jardin, Dominique Jullien, Claudio Fogu, Élika Ortega, and Andrea Römmele.
---
Keywords and Hashtags For Social Media Campaigns in Support of the Humanities
(4Humanities hopes to extend the list to other languages and terms in the future. Suggestions for keywords/hashtags in any language may be emailed to ayliu@english.ucsb.edu.)
Dutch
alfawetenschappen
geesteswetenschappen
humaniora
letteren
onderwijs
universiteit
universiteiten
wetenschap
English
academic
academics
art
arthistory
artmajor
arts
books
campus
campuses
classrooms
college
college
colleges
comparativeliterature
curriculum
degree
diploma
education
educators
englishmajor
fac
faculty
foreignlanguages
grad
grads
graduate
graduated
graduates
graduating
greatbooks
highered
highereducation
history
historymajor
humanities
lecturers
liberalarts
literature
master'sdegree
mediastudies
phd
philosophy
philosophymajor
postgrad
professors
profs
reading
scholars
school
schools
student
students
studying
teacher
teachers
undergrad
undergraduate
univ
univeristy
universities
university
university
weareteachers
French
arts
campus
digital numérique
diplôme
EtudesSup
etudiant
fac
littérature
philosophie
professeur
profs
scienceshumaines
sociologie
universités
German:
Bildung
Stipendium
Studieren
Studiengang
Studium
Vorlesung
Italian
accademici
accademico
docente
docenti
dottorandi
educazione
insegnanti
insegnante
istruttore
istruttori
istruzione
istruzione universitaria
matricola
matricole
professore
professori
scienze umane
scienze umanistiche
studente
studenti
umanesimo
università
Japanese
大学
教授
生徒
学生
人文学
歴史学
哲学
文学
言語学
研究と社会
大学
人文学
Spanish:
culturadigital
educachat
educatic
humanidades
humanidadesdigitales
patrimonio
universidad