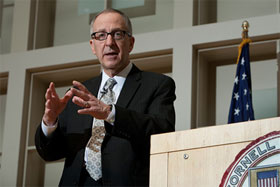 In his State of the University Address at Cornell University on October 29, 2010, and in later interviews, David Skorton, President of Cornell, has made a bold call for advocacy for the humanities at his university and nationwide in the U.S. It is "time for Cornell to step up and advocate for arts and humanities nationally as we recruit faculty locally that will define our university for a generation," he said in his address. "For many years," he added, "neither Democrats nor Republicans, in my view, have done much to provide increased financial support to the National Endowment for the Humanities (NEH) or the National Endowment for the Arts (NEA). Instead, these two important cultural agencies have been tempting targets for those seeking to advance particular political, social or religious agendas or to show fiscal restraint" (source: Cornell ChronicleOnline).
In an interview with The Chronicle of Higher Education, Skorton states, "I have been disappointed not to see sufficient national dialogue…. I don't hear a national conversation about funding for the humanities." He sketched a humanities advocacy thesis as follows: "You can't recreate the past and relive it again, but we can understand so much more…. When I hear military leaders talking about winning the so-called hearts and minds of people in other countries, the way I translate that is all based on humanistic and social science disciplines. That requires that we understand the language, the culture, the religion, and the values of those societies—and that is the humanities."
Skorton plans to start a national campaign in the U.S. for the humanities. He is himself a biomedical scientist whose interests cross into biomedical ethics (he was charter past-president of the Association for the Accreditation of Human Research Protection Programs, Inc.) and business/economic stimulus (he was past chair of the Business-Higher Education Forum and is a member of the advisory council for 10,000 Small Businesses). Formerly, President Skorton was on the faculty of the Departments of Medicine and Pediatrics at Weill Cornell Medical College in New York City and the Department of Biomedical Engineering in the College of Engineering on Cornell's Ithaca campus.