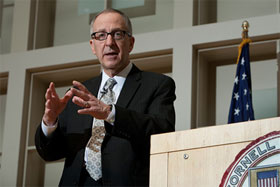 Cornell University President David J. Skorton, a physician and scientist whose advocacy of the humanities has previously been featured on 4Humanities (see posts of Dec. 5, 2010 and Dec. 1, 2010) has spoken out against the current proposal by the Republican Study Committee to eliminate all funding for the U.S. National Endowment for the Humanities (NEH). (See also the recent National Humanities Alliance "action alert" on this issue.) In an opinion piece in The Washington Post's education section, Skorton writes: "Whatever your priority for the future of our country, the elimination—or even further deterioration—of the NEH will adversely impact those priorities. We cannot permit our federal investment in the humanities to disappear." He continues:
As a physician and scientist, I applaud [investments in science and technology]. But make no mistake: our most pressing and complex problems—worldwide—will not be solved by science alone. As just one example, local cultures and values hugely impact the willingness of people to embrace scientific discoveries, from genetically modified foods to vaccines—and the understanding of these cultures and values is the domain of the humanities and the social sciences.

It's often forgotten, moreover, that the NEH is a research agency, funding highly competitive proposals in areas critical to our national life. Unlike other major federal research agencies, some of whose budgets have doubled in real dollars in the last decade and a half, the resources of the NEH have been reduced by over a third.

Do you want our children to have a sound ethical foundation that complements the strong moral compass that most parents endeavor to instill?

This is the domain of the humanities and, whether we're discussing the headlines relevant to regulation of financial institutions, cloning, or the appropriate use of new social media, a thoroughgoing understanding of ethics is critical.

Anxious about national security?

When we hear our generals or diplomats speak of "winning the hearts and minds of the people," they are talking about understanding the language, culture, religion, and values of people in Iraq, Afghanistan, Egypt, and elsewhere, endeavors supported by the NEH. That's why our analysts in the major national intelligence and security agencies are to a great extent humanists and social scientists. In fact, the previous administration established a National Security Language Initiative (with programs in the Departments of Education, State, and Defense and the Office of the Director of National Intelligence) to increase the number of Americans learning such "critical needs languages" as Arabic, Farsi, Hindi, Russian, Chinese, and others.
Skorton concludes about the proposed 100% budget cut for the NEH: "it should be unacceptable, to Democrats and Republicans alike, to 'zero out' that support, even in a time of austerity and a need to reduce federal expenditures." (Read his full opinion piece.)