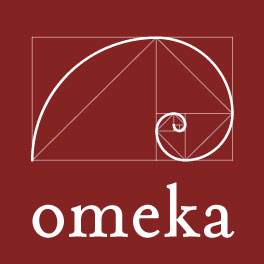 Omeka is a free, open-source web publishing system for the display of library, museum, archives, and scholarly collections and exhibitions. Developed by the Center for History and New Media at George Mason University, Omeka makes it easy for academics and cultural professionals to design and publish their own collections-based research and online exhibitions, a task that formerly required either extensive technical skills and/or funding for outside vendors. Described as "WordPress for your exhibitions and collections," it emphasizes Web 2.0 technologies and approaches, is designed with non-IT specialists in mind, and is flexible and easy to use.
As in WordPress or other management systems (CMS), authors write and add content through Web forms into a database, which then outputs the content to the Web through a customizable template or theme. Multiple authors can collaborate to create content and, depending on what site administrators allow, readers can contribute content as well. Omeka also provides users with many different customizable themes and plugins that extend the system's basic functionality. Some of the most popular include the Dropbox plugin, which allows users to upload a large quantity of files at one time, and the ExhibitBuilder plugin, which enables users to create rich, interactive exhibits using items in their Omeka archive and narrative text.
Along with these more familiar, blog-based features, Omeka includes many features specifically directed at academic, museum, and library use. Omeka has a strong and flexible approach to metadata representation: users can work with the default Dublin Core set, import other metadata sets of their choosing, or create their own metadata vocabulary. This allows the system to be highly interoperable, sharing data with other content management systems and Omeka sites. The plugins enable users to extend their exhibits to include maps, timelines, and folksonomies, and users can share their Omeka data through a variety of output feeds.
There are two main ways of creating an Omeka site:
1. The easiest method is to sign up at Omeka.net for an account. Omeka.net is a hosted web-service that requires no server or programming experience. It offers five plans for users, ranging from a free Basic plan that builds one site using a few plugins and themes to a Platinum membership that deploys an unlimited number of sites using extensive plugins and themes.
2. The other way is to create a local installation of the open-source Omeka software (available from the Omeka site) on your own server (usually a server at your institution). This is the most flexible option, allowing you to fully customize all of a theme's component files. You need a server running the LAMP suite that is the default open-source platform for Web 2.0. (LAMP is an acronym standing for the Linux operating system, Apache web server program, MySQL database program, and PHP scripting code). Omeka can support very large archives of metadata and files; the only limitation is your own server. This option is more difficult to implement, but for those familiar with setting up LAMP applications, an Omeka installation can be efficiently accomplished in a very short amount of time. For novice web developers, the installation may be more challenging, however Omeka has an active and growing online community where help for installation problems can be sought.