By Eva Kekou, 4Humanities International Correspondent
Eva Kekou: In your statement you define yourself as a multidisciplinary artist with a focus on sculpture, sound, space and the participant. Can you elaborate on this and tell us how you understand multidisciplinary work and what you would like to express through various artistic means?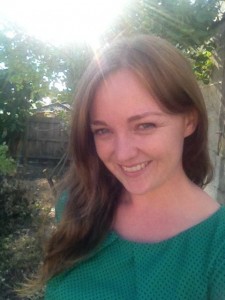 Cara-Ann Simpson: For me multidisciplinary means working across various disciplines – for example, my formal educational background is in visual arts, but most people will probably think of me within the sound art field. At the core of my practice is a strong belief in the conceptual – forming an idea and objective and then developing it. What disciplines it might fall within are not as important as presenting the idea as best I can. Sound (literally, metaphorically, abstractly) is the thread that ties my practice together – I am really interested in how people interpret and react to sound.
Environmental sound, and sounds that society ignores are ideas that are important to me – I am intrigued by changing modes of listening and hearing in society, and the how and why this happens. This curiosity has led me to work with new technologies and collaborate with engineers on projects like Noise Cancellation: disrupting audio perception (2009) and Geo Sound Helmets (2011). I think multidisciplinary art is definitely heading in this direction – where artists are working across fields of art, science, technology – and others. It's an exciting time to be an artist – I have always had a soft spot for the ideals of the Renaissance man, and now I think is the time that artists can work across disciplines and fields to really create innovation and experiment.
EK: I know you come from a visual arts background. Can you tell us how you became interested in sound? What do you find intriguing in sound art and culture, and how do visual art and sound function together in your work?
CAS: From an early age I was very interested in music – through school I learned piano and violin, then later took up double bass, with some flirtation with trumpet, and later teaching myself guitar. In high school I had a fantastic piano teacher who introduced me to Dalcroze – a specific type of music discipline that sharpens the mind and body to listening and reacting to music. The philosophy of Dalcroze and my immersion in music stayed with me long after I stopped playing instruments. But I'd somewhat given up on wanting a career in music and when I graduated from high school I'd planned to study law and political science. Luckily I deferred and went travelling around Australia instead! 18 months into my trip my Mum called me and said that I needed to come home – I had an interview at the University of Southern Queensland for their visual arts course, and I'd also need to get a portfolio together. I had seven days to put together my portfolio and drive from Myrtleford (Victoria, Australia) to Toowoomba (Queensland, Australia). So I did. At the interview they asked if I really wanted to do this, I said yes, and within two weeks I started my degree.
I like that story; it's one of the most important things to happen in my life to change my direction. Of course when I started the visual arts degree sound wasn't an idea that emerged straight away, although I did dabble with music and spoken word accompaniment. I became highly interested in Conceptual Art and the process involved in actually making works. Robert Morris' work Box with the sound of its own making (1961) inspired me to try recording the process of making monochromatic paintings and hiding speakers and sound systems inside the works. This lead to more installation based work, and quickly became very meditative (even when working with works like the large-scale installation sound:white (2007) that has substantial amounts of industrial noise from the woodwork involved). When listening back to the recordings during mixing and editing I started to notice the background noises more and more, as well as the differences between working in my studio on the farm and my studio at the university. These social differences quickly became one of my main interests and I began field recording in earnest.
I'm fascinated by how much of a visual bias there is in society, yet our hearing is so important for how we understand space and surroundings, danger, and of course social situations. I enjoy presenting work within the gallery context because people generally behave in a specific manner in this particular environment; it allows me to present quite subtle ideas and outcomes that might go unnoticed in other public environments. With the emergence of installation practice and new media, the art gallery has expanded its field of presentation to encompass non-static forms of art, and those outside of the visual. Visual art is now a much more abstract concept as we begin to include mediums that are inherently non-visual and intangible – the things that move through air like sound and smell.
However, within my work I am still strongly attached to visual outcomes as well as sound. In my Spectral Photographs series (2009-current) I am fusing photography with the visual spectral analysis of sound recordings – often building hidden vibration technology speakers into the printed works to generate a holistic representation of my experience of a site. Although I've yet to include smell or an atmosphere, this is something I'm interested in exploring in the future. I believe that there is a need for immersive art, where all, or many, of the senses are engaged and challenged. This is definitely where sound (and other senses) can complement and work with visually based artworks.
EK: I know your work Geo Sound Helmets. Can you please give us some information about this work and about the feedback it received in Australia and New Zealand? Would you like to work on an improvised version of Geo Sound Helmets?
CAS: Geo Sound Helmets has probably been the biggest project I've worked on as the initiating artist. I first started developing the idea in 2008 while I was working on Noise Cancellation: disrupting audio perception (2009 presented) with DSP and research engineer Eva Cheng. I wanted to create a series of immersive sound 'domes' or 'helmets' that could envelop an individual in sound, and would be highly interactive with the individual's breathing pattern. I find breathing somewhat similar to hearing (considered physiological rather than deliberately psychological decisions; listening alternatively is a psychological process). As I began my research I brought on collaborators – Ben Landau (industrial designer; Melbourne & The Netherlands), James Laird (biomedical engineer, computer hacker & technical assistance; Sydney) and Eva Cheng (DSP & research engineer; Melbourne).
The whole concept for the project was based around the word 'geo' in its many forms. Probably the most important of those was geography: as I travelled I took multiple field recordings and mixed those into compositions that to me encapsulated specific locations – finding keynote sounds, and unique identifiers to a place. I wanted to transport people to places around the world that they might never have been, or might want to reminisce about. For example, a person from regional Queensland could experience the bustling metropolis of Hong Kong through sound without ever having been there. To complete the immersion, as the person's breathing pattern changes, it affects the sound subtly – the speed, volume, reverberation increases or decreases. This in turn can alter the person's breathing pattern without the person making a conscious decision to do so. Sound is a powerful tool to alter perception, experience and biological response, without a person needing to make conscious decisions.
I was very privileged to exhibit the project in Dunedin, New Zealand at Blue Oyster Art Project Space, and then in Melbourne, Australia at Kings ARI. The response to the work was vastly different in each location – I was very surprised at the warmth and enthusiasm for the project in New Zealand, and the zealousness with which visitors experimented and played with the helmets. Alternatively, in Melbourne, there was a much more restrained audience, quiet contemplation, and sometimes even a fear of immersion developed with the participants.
I am definitely interested in further developing the project, and working on improvised versions. I am hoping to develop the project with either an educational outlook for assisting children with behavioural problems, or looking at how it could be used to investigate psychological and biological responses to sound. However, there is still definitely a lot of room to improve and expand on the project purely within artistic presentation; it is quite a performative project in some ways, and this is also an area that I am interested in exploring with collaborators. I am a big believer in collaboration, and in pulling teams together with specific expertise to achieve wanted outcomes.
EK: You are co-director and co-producer for Electrofringe. Could you please give us more information about this?
CAS: Electrofringe is a not-for-profit electronic arts organisation based in Australia with year round programming. The company has existed for 16 years, and has often been involved in the This Is Not Art (TINA) festival held annually in Newcastle, NSW. This is my third year with Electrofringe as the co-director and co-producer. We annually curate a project called Electroprojections which is a body of projectable time-based art that we then exhibit in various locations. We currently are looking at more regional focuses within Australia and have run projects in Townsville (Queensland) as a starting point for this direction of presentation.
Presenting and supporting electronic and experimental artforms in regional and remote parts of Australia is something that I am really passionate about. I grew up and returned to study in regional Queensland, and I definitely see the value of bringing and supporting these types of artforms in regional and remote centres. Electrofringe has a DIY feel to it; we have often supported groundroots projects similar to those you might see at Dorkbot events and hackerspaces. We fundamentally believe in artist rights, and pride ourselves in supporting artists through presenting projects, paying artist fees and promoting artists.
EK: Can you please give us some information about major art events in Australia, in particular electronic and new media art events?
CAS: Australia's electronic and new media art scene is quickly growing with organisations like Electrofringe, Experimenta and The Edge providing commissions, exhibitions, workshops, facilities and events. ANAT (Australian Network for Art & Technology) is an incredible organisation dedicated to supporting electronic and new media artists in Australia, and providing opportunities like residencies with non-arts based partners. Similarly, Australia Council for the Arts, the federal governments arts funding body, has fantastic grants in place for artists involved in electronic and new media artforms and continues to provide support to individual artists and organisations. Many of the state and territory governments also have arts funding bodies in place, as well as local councils. A younger, but quickly growing area of funding sources is arts philanthropy. It has been slower to emerge than in countries like America, however it is an area that is now taking off and shows great promise as a funding resource for Australian artists and organisations.
EK: How are artists supported in Australia and is the audience really interested in innovative and interdisciplinary artistic work and projects? I would also like to know how open are museums and artistic organizations to new ideas, projects and exhibitions.
CAS: For me, as an artist and curator with a strong research background and element in my practice, I do find it difficult to not be attached to a university and be taken seriously for research writing associated with my artistic practice. As such, I often have to self-fund any research and travel related to published outcomes (particularly for conferences). It is an area that is less considered than exhibition and project presentation outcomes, and lacks a support structure for freelance artists and writers.
Interdisciplinary art is definitely an area on the rise in Australia; more and more artists are getting involved, and this of course means more projects being presented to the public. I find most Australian audiences really receptive to interdisciplinary art, and often those projects at the intersection of art and science or art and technology are incredibly well received. This means that museums and artistic organisations are increasingly interested in presenting these types of projects; however, one of the main challenges in presentation is the education of staff for the upkeep of these projects as many can be quite complex and outside of staff comfort zones. This is something I have come across both as an artist and curator – being in this unique position has definitely forced me to think about the ease of operating some of my more complex installations for galleries and museums and how I can make it more manageable.
EK: You recently became the curator for Bundoora Homestead Art Centre, the public art gallery of the city of Darebin, Melbourne. Could you please give us some information about the art centre and, specifically, your work there?
CAS: Bundoora Homestead Art Centre is an incredible Queen Anne asymmetrical style mansion built in 1899. It was a family home for wealthy racehorse owners and breeders, and then became Victoria's first repatriation hospital for returned serviceman. It operated as a hospital for soldiers until 1993 when it was closed down. In 2001, the homestead was re-opened as an art centre; it is now the public art gallery for the City of Darebin (a council in northern Melbourne). My role as curator is to plan and curate the artistic program in the main exhibition space and the community access gallery, as well as maintain the historic interpretation displays and Darebin Collection Gallery. We program around six main exhibitions a year including touring shows, as well as exhibitions I have developed (sometimes in partnerships with other institutions), and 12 Access Gallery exhibitions. In addition to my role at the homestead I also curate and care for the City of Darebin Art and History Collection, which is spread throughout Darebin Council buildings and facilities.
EK: What are your tasks as curator and how do you think your previous experience as curator can contribute to this? In what ways would you like to develop your artistic work from this experience?
CAS: Before becoming the curator at Bundoora Homestead Art Centre I had some experience in freelance curating, and also quite a lot of exhibition coordination for solo and group exhibitions in various galleries. There is a lot more freedom in being a freelance curator because the intention and purpose of the exhibition is driven by personal motivations and interests. This is quite different for a public art gallery, where understanding the audience is integral to the success of all exhibitions, while there are specific objectives to meet in order to stay within the broader focus of the gallery and council. I enjoy this challenge and it has greatly improved my knowledge and understanding of local contemporary artists and of how to challenge an audience without alienating them.
Probably one of the best examples of actually developing my artistic work using my experiences at the homestead has been the exhibition Cloudy Sensoria. The idea for the project was conceived before I started as the curator, and it became a partnership exhibition with RMIT University (School of Architecture and Design). The exhibition explored intangible forms of sensation including sound, qualities of smell and the dispersal of air in space. I co-curated the exhibition with Malte Wagenfeld (RMIT University) who is a really interesting artist engaging with atmospheres and smell – we were also both involved as artists. It was an incredibly challenging project as curator and artist, but gave me invaluable insights into methods of fusing curating and being an artist through collaborative and immersive projects. Definitely on a professional and business level, this position has assisted me and will continue to assist my development as a professional artist. I understand a lot about both sides now and am able to communicate my ideas to galleries more clearly while also understanding some of the challenges they face with presenting and upkeep involved in work like mine.
EK: I know you have had a number of solo exhibitions and sound releases and that you have been involved in numerous performances and group shows within Australia, New Zealand and the United Arab Emirates. You have travelled a lot as presenter: I met you myself in Toronto some years ago and we saw each other again in Istanbul in 2011. In which ways, from your perspective, is the art scene differently organized, open, and inviting in Australia compared to other countries you visited?
CAS: I feel lucky to live in Australia and be an artist – it is a difficult path, but the level of funding is quite extraordinary from government sources. While I say that, I will also mention that I do believe it can be improved upon (but that's another conversation!). Australia's art scene can be quite university focused: for example, many artist-run initiatives are founded by groups of graduates from one university, which means the audience in attendance also tends to be mainly from the same university pool. Similarly, as an outsider to a city, it can be a little difficult to break into the scene – Australia's cities are fairly small, so people know each other. When I first moved to Melbourne I did feel like an outsider to the art scene (I'm also a bit of an introvert which doesn't help!), but with persistence I do think I have established myself in Melbourne and more broadly on a national scale. Being a 2008 graduate I am pleased with the rate at which my career as progressed and how my work has been recognised locally and nationally.
Australians really love international artists (in my experience in any case), it is exciting to meet or showcase international artists and work. We are a long way geographically from many other countries and while the internet and increased flight networks assist with feeling less isolated, the reality is that Australia has a relatively low population – so new International work is always refreshing and exciting!
EK: What do you try to achieve through the artistic expression in your work? Do you think that the audience understands your aims?
CAS: I wholeheartedly believe in challenging audiences with my work – not to alienate or annoy, but to provide questions and raise ideas to think on during and after experiencing a work. I want to raise awareness of the importance of sound in society, as something that is environmental and psychological. With increased concerns regarding noise pollution, but also sound-related technology, we are isolating ourselves more and more from each other in the middle of urban areas. In much of my work I try to pinpoint the beauty of environmental sound – those that we often unconsciously block out. The creak and rattle of a train can be melodic, wind rustling through trees in the park soothing, the background rush of cars exhilarating. At the same time, I want to point out issues of sustainability as a very broad idea. From the widely debated environmental sustainability (a current hot topic in Australia) to the sustainability of accepted workloads. These are more subtle aims in my work; they are missed by some, but are picked up by those waiting and ready to think about these ideas. I have deliberately chosen not to be aggressive or confrontational within my practice with my beliefs and values, nor am I passive. Perhaps some of my meanings are more subliminal, and definitely in works like Geo Sound Helmets (2011) I want to alter people's perceptions subtly, perhaps even subconsciously.
EK: What are your next aims and goals personally, as an artist and as a curator?
CAS: This probably should be one of the easiest questions to answer! Yet, I am currently in transition between one phase of my life to the next. I am passionate about the arts, about being involved as an artist and curator, but more broadly being an advocate to increase awareness of how important and integral the arts are to society and progress. One of my main goals is to begin my PhD within the next five years – however I just can't settle on a university or supervisor. I would love to do it overseas, but unfortunately without a full scholarship it's not currently feasible. As an artist, I am beginning to become more and more interested in neuroscience, and am hoping to form a collaborative partnership with a neuroscience laboratory to work on a project at the intersection of my practice and the laboratory's focus. There is potential in this area I believe to make incredibly innovative artwork, but to also perhaps provide valuable research paths for the laboratory. As in my works Noise Cancellation: disrupting audio perception (2009) and Geo Sound Helmets (2011), I do see potential for outcomes beyond the art installation, and advances in technology and research areas.
As a curator I believe it is important to continue supporting local artists and strengthening the quality and diversity of artwork available to the public. The program at Bundoora Homestead Art Centre currently reflects this, and I hope future projects will as well (at the homestead or elsewhere).
I have to say though, I have had an amazing and rough few years with incredible opportunities and challenges presented professionally and personally. Some of these experiences have dramatically altered my outlook on life and how precious it is. I have committed to living in the present, jumping on opportunity, but to also taking time to spend with family and friends and to care for my personal health. It is something that, as a self-identified workaholic and perfectionist, can be difficult, and re-training my behavioural patterns has been difficult!