By Kristin Cornelius, cross-posted from 4Humanities@CSUN

#toofew: THATCamp Feminisms West Wikipedia Edit-a-thaon from Kristin Cornelius on Vimeo
4Humanities@CSUN is pleased to showcase the event #toofew: THATcamp Feminisms Wikipedia Edit-a-thon in its newest MiniDoc production. The film features Dr. Jacque Wernimont, an Assistant Professor of English at Scripps College, who describes the mission behind this event as educating and training users to transform Wikipedia into an encyclopedia that "represents people of color, women, and people with other gender or sex identities;" currently, she states, "the majority of editors are men between their twenties and thirties." Part of the collaborative, informal THATcamp "unconference" series, THATcamp Feminisms began as "a set of conversations" about incorporating each cultural criticism, including feminist theory, and coding into the practices of digital humanities. THATcamp Feminisms West was held March 15-16th, with Friday morning dedicated to the Wikipedia Edit-a-thon.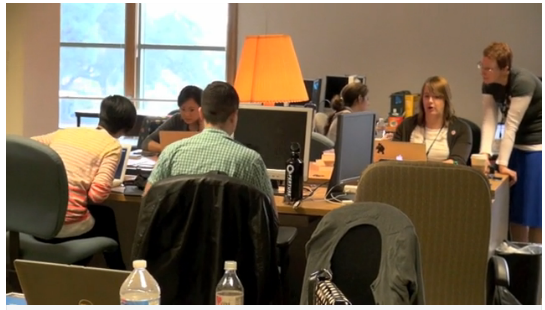 This event has gained popularity amongst humanities and digital humanities scholars, with many of the participants having travelled to attend the event including Emily Kugler, an Assistant Professor of English at Colby College in Waterville, Maine. Others were more local; Genevieve Carpio, took a break from her studies as a graduate student at USC in American Studies and Ethnicity to start a new Wikipedia entry on the Padua Hills Theatre, which she says was an intersection of gender and ethnicity and a project from where "a lot of active Chicanas came."
Another group came down from UC Santa Barbara to join in in the edit-a-thon. One of these students, Amanda Phillips, expanded the entry on psychologist Bracha L. Ettinger's feminist theory book, The Matrixial Gaze, which Phillips describes as a "feminist re-imagining of the gaze in terms of focusing on connectedness versus castration."
Wernimont also explains how #toofew was always intended to be a virtual event, with scholars participating online. Some did participate virtually, and tweeted about their process while they edited. Brian Croxall (@briancroxall) attended virtually, for instance, and tweeted about how two articles on Gayatri Gopinath were written simultaneously that morning.

Wernimont hopes that this project increases the awareness of the imbalance of the quality and quantity of articles written by and about women and people of color, and that the editing session will continue with both a national and international response. As the sessions have increased from three THATcamps (West, East, and South), to five different events, it seems they are on their way.