By Eva Kekou, 4Humanities International Correspondent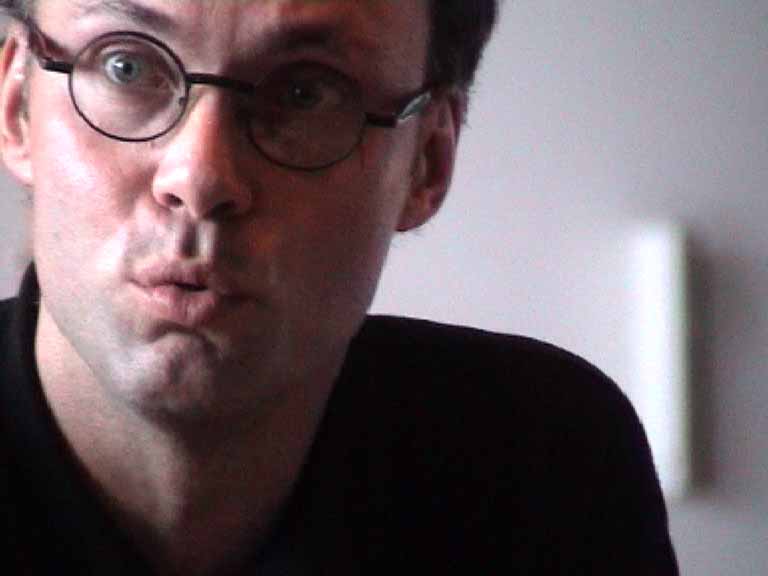 Eva Kekou: Hello Horst! I know you come from a multidisciplinary academic background. Can you give us some details about this and also tell us what concepts or practices link the different disciplines in which you work?
Horst Konietzny: It is good to have this question as a starting point. Because this is the question that I am asking myself all the time: what is at the heart of my different interests, interests that sometimes seem to be a long way from each other? I studied Theatre Sciences and finalized it with a Master of Arts but without much affection because I was much more attracted to practical art work. So very early I started to work as a director in theatre. But again I didn't want to make a commitment to a specific discipline: I directed dramas and operas and loved to develop forms of documentary theatre, both in off theatres or town theatres. I did so for more than ten years before I came to question 2.
Eva Kekou: How did you get interested in public art events?
Horst Konietzny: It started while I still was part of the board of a town theatre. I found that our theatre should be more open to social questions, should be more present in the city. So we developed strategies that went beyond the usual work a theatre does (especially in the 90's, the period of time that I am speaking about). Those experiences had a surprising side effect on me: I lost part of my interest in normal theatre and decided to do performative projects outside normal theatre spaces.
It has to be added that, in the middle of the 90's, the internet started to become an important media and social phenomenon. I was fascinated by its theatrical appeal. Ordinary people started to act in the public space of the cybernet. I did a series of projects that explored the performative aspects of real and virtual spaces and developed strategies of interactive art in public spaces. What was so intriguing for me in the public situation was the possibility and the necessity of dealing with chance operations. What you do in public space isn't completely planable. You can set a frame, but within that frame a narration unfolds almost by its own.
Eva Kekou: How do the audiences you encounter in German cities react to such events or get involved compared to the audiences in some other cities you've worked in?
Horst Konietzny: This is a question too big to answer in short without falling in the trap of prejudices. I, for example, experienced big differences between public reactions in German cities. When I did my project REACT, an exploration of the literature of everyday life, where passers-by could become part of literature after entering a marked zone in the pedestrians area, we realized that Germans are different. In Stuttgart, for example, people stood along the line without daring to cross it, while in Hamburg people wore fantasy suits in order to be chosen by the authors.
Eva Kekou: When you decide to plan an event in a public space what kinds of things do you consider?
Horst Konietzny: First it needs to be planned carefully. Maybe this is something special in Germany, but you have to have all kinds of permissions to use public spaces. So I do the organizing and preparations carefully but I am ready to follow the dynamic of the situation when the project is rolling.
Eva Kekou: How would you say that your work is conceptually connected with the city and its culture?
Horst Konietzny: I think those parts of my work that have to do with shared memories are very much related to German culture, and especially to its recent past. In these projects, for the first time, I left my role as an artist who – like a director normally does – keeps his distant perspective on what's going on and instead became directly involved. This was new, somehow frightening, stressful in a specific way, but also very exciting.
Eva Kekou: I understand from your past activities that you are very interested in interactive and mobile media. Can you tell us how you first got interested in new media and about some of your recent projects with new media?
Horst Konietzny: It started in the end of the 90's when I was working on the performative aspects of internet communications. I found that through mobile phones, for example, I held an instrument in my hands that had the capability to get artists and audiences together. In SM SERVICES, for example, I equipped 20 authors with mobile phones who were on "duty" for a specific amount of time during the day. They got messages from readers who turned out to become muses and sent their kiss or other stimulus as an SMS to this author who had to respond immediately. This reaction was projected to the wall of a gallery until the next message came. It was fascinating to see authors explore the expressiveness of 160 charaters and to see readers daring to get in touch with authors in their medium, the word.
I don't consider media as an end in themselves. Instead, they are an interesting tool for interactive processes. The interaction with audiences is especially something that continues to fascinate me. My latest piece MATCHPOINT, for example, had this in mind: to explore the intensities of encounters between artist and audiences. The art of the audience itself stood in the middle of this project, which brought more than 30 artists together with one person as the audience. Those one-to-one meetings were individually planned and followed completely different performative concepts. It was a blind date that I arranged using the application of the visitor.
Eva Kekou: We are both members of the international collective Upgrade. Is the Munich node active? Can you give us some information about recent events in the collective?
Horst Konietzny: Unfortunately, this node is in a sleeping mode in the moment but we plan to revitalize it this year once again.
Eva Kekou: I am aware of the residency program you are in charge of: what are the goals of this program and what do you hope to get out of your experiences with it?
Horst Konietzny: Our main interest is to get artists of different nationalities together with the local art scene in order to broaden our minds and to initiate future collaborations.
Eva Kekou: It seems you are interested in art in all its variations. What lead you to also get involved with the acoustic aspect of art or with sound art? What is SIGNALRAUM?
Horst Konietzny: The ear is a fascinating organ, very subtle; it is the sense of 360-degree awareness. It helps to find new perspectives. Thtat's what I want. At SIGNALRAUM we try to initiate experimental ways of artistic collaboration with sounds as its focus.
Eva Kekou: How would you describe the cultural scene in Germany, particularly Munich? What is the audience in Munich like?
Horst Konietzny: Perhaps most specifically, we don't have THE AUDIENCE but rather many audiences who don't love to get mixed.
Eva Kekou: Can you tell us about some of your current projects?
Horst Konietzny: Right now I am working on a radio narrative trying to witness the birth of a novel. A second complex of projects deals with spirituality and art.
Eva Kekou: What are your plans for the future?
Horst Konietzny: To be more in the present.