Get on the Humanities Bus!
The Kickstarter campaign to fund the Humanities Bus tour and Webseries began on February 4, 2014.
Who: DHMakerBus (Kim Martin, Ryan Hunt, Beth Compton) and Alex Gil, together with the 4Humanities Collective.
What: A KickStarter Campaign titled "The Humanities Matter". The goal is to raise $15 000 (or more!) towards a documentary-style web-series about the importance of humanities education.
When: The bus trip that will be the focal point of the webseries takes place in late May and early June, leading up to the Digital Humanities Summer Institute.
Where: 1. On the web – we'll be live tweeting and blogging the entire trip, as well as uploading our interviews as they take place along the way.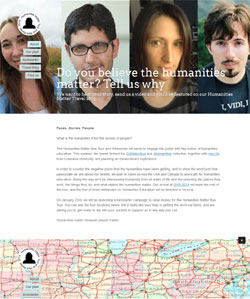 2. On the ground – All the way from Charlottesville, Virginia, through Montreal, Quebec and out to Victoria, British Columbia, we'll be travelling (by bus!) and talking to people from all walks of life who have one thing in common: they believe the humanities matter.
Why: We live in a world where the arts and humanities are under constant threat. Our project seeks to show the value of the humanities, focusing on positive stories of how the humanities enrich lives. We want to show the human face of the humanities – the humanities matter because people matter.
What is the humanities if not the stories of people?  Humanities matter because people matter.
(Kickstarter campaign for the Humanities Bus Tour)
(More information about the campaign)