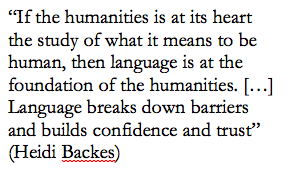 One effective way humanities departments can engage with growing discussions on the "crisis of the humanities" is by transparently communicating what they do. Professors in the humanities at Drury University are doing that by explaining the importance of their disparate projects through video clips called "HumCasts." Each video shows the professors in their classrooms, engaging students in their research, as well as explaining why they teach the given subject.
Dr. Heidi Backes, for example, is a Professor in the Department of Spanish and specializes in nineteenth century Gothic and Naturalist fiction. Her interest in cross-cultural studies was formed at an early age by reading books. She explains that her first real experience with travel and other cultures was by reading about other people in literature.
She ends her talk by saying, "if the humanities is at its heart the study of what it means to be human, then language is at the foundation of the humanities. […] Language breaks down barriers and builds confidence and trust." These skills are highly marketable, but they are also skills that are important to living well and with empathy in a global society.
Another video clip features Dr. Patricia McEachern talking about the interdisciplinary Animal Rights Minor at Drury. She talks about her research of elephants in captivity, and her courses titled "Animals in Literature" and "Animal Ethics." Students see animals in new perspectives by looking how modern and classic thinkers consider animals, while also learning close reading and critical thinking skills.
There are seven videos in total, and each features a humanities professor in the department talking about their research and teaching. The HumCast videos are part of a larger project by the Humanities department at Drury University to change the narrative away from the "crisis" of the humanities to explaining why the humanities are essential. An essay in the Chronicle of Higher Education recently explained their efforts to change this narrative. An except of that essay is below:
"Humanists encounter a constant stream of articles proclaiming a 'crisis in the humanities.' They are rooted in the alleged high unemployment rate and low pay of humanities graduates, the collapse of the number of humanities majors, and the shrinkage of the discipline's total tenure-track positions and programs. Each article is a potential falling acorn that could be interpreted as evidence that the sky is falling. As a humanist, it's hard to resist the urge to run into a cave for cover.

Interestingly, although programs and tenure-track lines may in fact be under stress, actual data do not support the overall crisis narrative. Unemployment rates and salaries in the humanities are near the median for all majors, and salaries for graduates in philosophy, English, and history are higher than the median. Following a drop in total major numbers in the 1970s, humanities degrees have remained constant. However, these data seem to have little effect on the humanities' detractors, and the narrative that they weave about the demise and irrelevance of the humanities can seem impervious to empirical reality. Unfortunately, false crisis narratives have real effects."