This post was originally published in The Huffington Post.  It is reposted here by permission.
The high school and college students of today are the workforce of tomorrow. They have a personal interest in the shape of the future, and they are directly affected by national conversations about educational value, access, and cost.
These students are bombarded with messages concerning the usefulness of their college degrees. The practicality of different fields of study. Their employability and salary prospects. In essence, the major question running the show is: What is your worth when you consider the worth of your college degrees?
Although they are directly affected by these messages, college-age students have been largely absent from national conversations about the value of the arts and humanities in higher education, in the professional world and in society at large. It is for this reason that in the winter and spring of 2015, 13 out of 45 applicants were selected for a student fellowship generously granted to the New York Six Liberal Arts Consortiumby the Andrew Mellon Foundation.
This cohort of NY6 Think Tank Fellows articulated the value of an education in fields such as Philosophy, Literature, Dance, Classics or History, in their own voices and from their own perspectives. For this purpose they wrote blogs, created videos, Instagram campaigns, zines, podcasts, invited speakers, interviewed faculty, students and alums and reached thousands of readers through Twitter, Facebook, and beyond.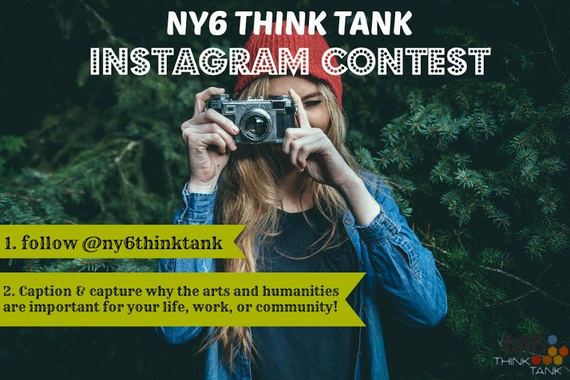 The goal of their projects was to break through, reach out and reshape national conversations about the arts and humanities by providing their peers with first-hand impressions and accounts of their experiences. Although they represent but a tiny group, their thoughts no doubt echo others in the hopes of sparking a movement.
At the forefront of their minds was a question worth pursuing, namely, "How can we convince young, impressionable students that choosing a major in the arts and humanities does not mean resigning themselves to a low salary or limited professional opportunities, but in fact could be the foundation for their astronomical success in a wide variety of fields? Even more concerning: how do we convince their parents that their tuition dollars are being wisely spent on this sort of degree?"
The student who asked this question was MaryGrace Wajda, a Classics and Philosophy major at Union College, NY. As a senior on the job market, MaryGrace became highly aware of the worth of her not just one, but two degrees in the humanities. And to her surprise, and contrary to popular belief, she readily learned that the professional community was "not only impressed with my background, they seemed acutely aware of the line of reasoning that led me to pursue it in the first place."
MaryGrace soon realized that critics of the arts and humanities were missing the point. What she wanted to say to them (and what many employers readily understood) was that, "I didn't study philosophy and classics because I want to graduate and live in the woods by myself and ponder life. I don't even want to get my Ph.D. and I don't want to teach. I majored in these disciplines because they are a tool for learning and thinking about anything I could ever possibly want to do!"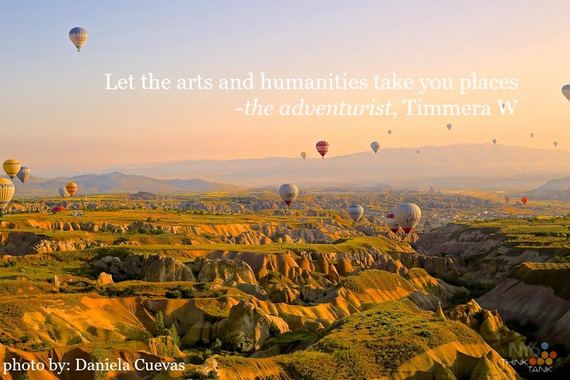 In essence, MaryGrace used her voice to suggest that her peers think more expansively about the meaning of the term "practicality" within the core disciplines of the arts and humanities. She understood that, "what seems to some to be a trite or at least very, very specialized field of study is actually quite practical–maybe even the most practical degree one can get."
Danielle Iwata, a Dance major at Colgate University, also asked her audience to think again about the value of another seemingly impractical discipline: dance. Through interviews, she learned how dance informs cultural diplomacy, cultural resistance, and even something as practical as law because, "dance develops skill sets that are incredibly valuable inside and outside of the classroom. We learn about stage presence–having that confidence to stand up in front of 750 people and perform something personal. We learn about trust–knowing that other members of your group (who have likely become family) will catch you during the falls and pull you up during the lifts. We learn about bodies–understanding where we are in space and being aware of others around us. We learn about teamwork–developing those relationships with other members and being comfortable enough around them to explain the past experiences and emotions that go into a piece. We learn aboutpassion–committing ourselves to the pieces and the people."
To be able to shift and move swiftly between spaces, cultures, languages, religions, races, identities is central to the education of anyone in today's day and age. The humanities, teach us, said avid traveller, creator of the images in this post, and Global Studies major at Colgate University, Timmera Whaley, "the dangers of a single story. Sometimes I think about how I saw people before I understood the importance of interpersonal dialogue. Much like Chimamanda Adichie, I carried around a single story about the world and people within it. These people are like this. Those people are like that, I thought. I want to believe that the humanities have taught me to not just be a tourist. It is violent and unjust to walk in and out of someone's culture without attempting to see it from their perspective."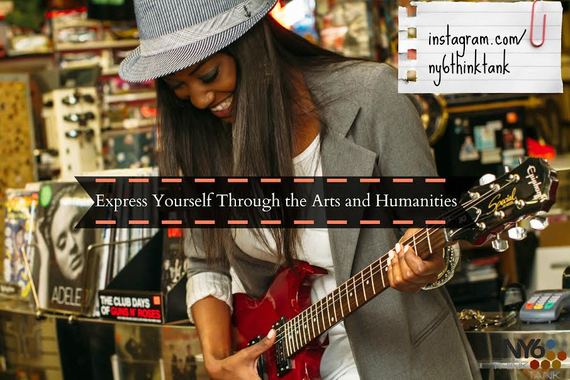 The NY6 Think Tank Fellows readily recognized that the perspectives they pursue and the stories they pick and choose to enter into dialogue are the reasons why the arts and humanities must not be disconnected from their generation's educations. Through the lens of Darwinian evolution, Lily Marks, a Comparative Literature and Biology major from Hamilton College, articulated intelligently the idea that, "research alone does not dictate the path of scientific discovery. The philosophy and culture of a people shape what we know of the world, and how we know it [. . .]. Humanity is not singular. Humanity is made up of endless diverging narratives." As such, argued Lily, we must not view the world in terms of divisions, but rather in light of mutual beneficiality.
This understanding of the enriching and beneficial contributions of all disciplines was also expressed in a zine created by Erica Randazzo, an Economics major at Hobart & William Smith Colleges. Through this medium, Erica explored the belief that Economics is a science, "because that makes us feel safe. We can pick and choose what we want to believe. But what is important is a basic understanding of what we are picking and choosing to believe. One has to articulate and communicate well the reasons for or against a statement. Economics isn't a perfect science with a short history; rather it's a dynamic, social science. It will only continue being one if we don't adopt a dispassionate view." History is the lens that Erica believed to be an essential tool to, "think about thought: where our ideas come from and how they color our world. Have we stopped thinking?"
The need to ask questions and understand the dynamism of thought was also expressed by Mae Capozzi, an English major at Skidmore College. Mae's ability to take a skeptical and questioning look at the limitation of today's computer technologies led her to ask salient questions such as, "how [do] computer scripts reflect Western values and epistemology, even though they are not human?" and "Will we ever have a magical realist programmer? What is the difference between a programmer in the metropole and in the periphery? Perhaps these traditionally humanistic questions can be asked of computer science. The possibilities are endless for this interdisciplinary study and I think students should be well-versed in that field."
What would the world of computation become without humanistic perspectives that can contribute to the asking of questions? And how will this generation identify itself in light of the digital worlds in which it matures? Simon Klein, a student studying media at Skidmore College, used photography to explore the connections between the digital and physical worlds and explore how interacting with both affects individuals on a daily basis. He learned that, "The arts and humanities give me the ability to ask tough questions about identity in a form that is approachable and personal. Identity in this sense is not only how we feel about ourselves, but also how we present the self in everyday life."
Deep insights into who these students want to become and how the arts and humanities can contribute to broadening their minds and their worlds in powerful ways was summarized eloquently by Yilun Zhang, a Neuroscience major at Union College who realized that, "to become a complete and compassionate physician, I must not just pick the fruits of the garden of medicine, but also intimately understand all of its branches and roots."
To deny our students the support to study fields in the arts and humanities would be like offering them a garden of delicious fruit grown from plants with no branches or roots. Their educations would be perceived as delicious and worthy of their appetites, but their palettes would lack the sophistication needed to savor and distill all the flavors of their harvest.
Today's college students really say it best. Why Study the arts and humanities?Because, as Carlyle Beldegreen Klein, a junior at Hobart and William Smith Collegeswill tell you, "The arts and humanities provide us with a toolbox on how to be critical thinkers, how to connect with the world around us and how to make change where it's needed. Without the arts and humanities, discovering what we're good at, what we're proud of and what inspires us would be challenging. My mission with this project is to help us realize that the moments we may consider small and insignificant are the ones that actually matter the most."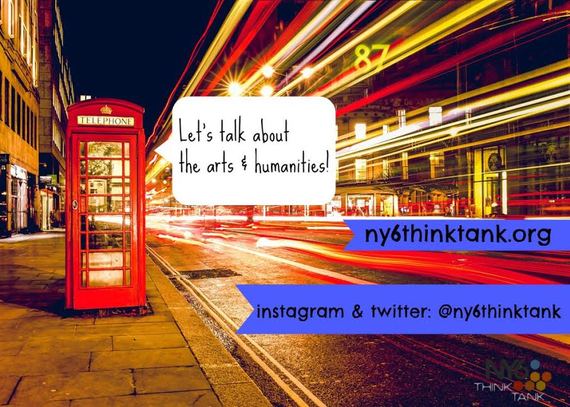 Christine Henseler is Associate Professor of Spanish at Union College. She works on topics pertaining to Generation X, twenty-first century Spanish literature, media and cultural studies, and the humanities. You can find her on Twitter.