This post was originally published in The Huffington Post.  It is reposted here by permission.
By: Christine Henseler
Arts and Humanities: Don't Leave School Without Them. This is not the advice most often heard among high school or college students. We all know not to leave school without a plan, a skill-set, a career path, but without the Arts and Humanities? Why not?
On April 22nd, 2016, the NY6ThinkTank, an Andrew W. Mellon supported community comprised of educators and students of the NY6 Liberal Arts Consortium who wish to transform—rethink and rewrite—public conversations on the state of the Arts and Humanities, convened a workshop meant to answer that question.
The goal of the 3 ½ hour event was to present to the over 70 student participants some of the most exciting professional opportunities they never knew existed, then to capture and share their expressions of an "Arts and Humanities of the Future" through interactive gaming technology driven by the amazing Jenny Gottstein of The GoGame.
Video created by Niki Rossi Photography
To address and involve students, the NY6ThinkTank invited three young professionals to the workshop, including media artist Ryan Holladay; Jenny Gottstein, Director of The GoGame; and Andrew Borden-Chisholm, Executive Producer of SpinTheVerb . These out-of-the box thinkers gave participants first-hand insight into the exciting, cutting edge, and transformative possibilities afforded by the Arts and Humanities.
Over the course of the workshop, Andrew observed that the experience of the presenters led students to ask questions that made clear, "how eager they were for fresh ideas and innovation." Nick Ruth, who teaches Art at Hobart and William Smith Colleges, also visibly noticed how his "students' preconceived notions of the Arts and Humanities dissolved in the face of the category-smashing creativity of the presenters."
Take, for instance, Ryan Holladay, a media artist and TED Fellow who creates location-aware music. To date, he and his brother have composed pieces that are activated through smart phones or tablets when walking around the National Mall in Washington DC or Central Park in New York City. Their work literally transforms the way we experience space through music.
Why does Ryan believe students should not leave school without the Arts or Humanities? Because, he says, "putting aside the contributions to society that painters, dancers and poets have made, I believe the greatest strides in engineering, in science, in mathematics are made by people who approach their respective fields as artists would. They indulge in outlandish thought experiments, take unusual creative risks, follow an idea that may not seem logical to anyone else at first. It's this way of approaching a problem that, I think, leads to the biggest breakthroughs in every area of life."
And creatively breaking through barriers is something Jenny Gottstein—recognized in Forbes 30 Under 30 in 2015—has turned into a successful career. Jenny digitally prompted the participants at the workshop to express through dance, mime, and finger theatre, a historical ballet and a SuperBowl-worthy commercial advocating for the Arts and Humanities. The hilarious and fun process allowed participants to think differently about their own futures as built on the collaborative creative spirit at the intersection of ideas, fields, and disciplines.
Building on her professional experience at The GoGame, Jenny deeply believes that, "Studying Arts & Humanities engenders a healthy sense of curiosity and wonder – not only with regards to how the world actually is, but how it might be. Some might call those who chose this path of study dreamers but the truth is, they are futurists. And having produced interactive games for thousands of companies around the world, I can tell you, the best ones are powered by futurists."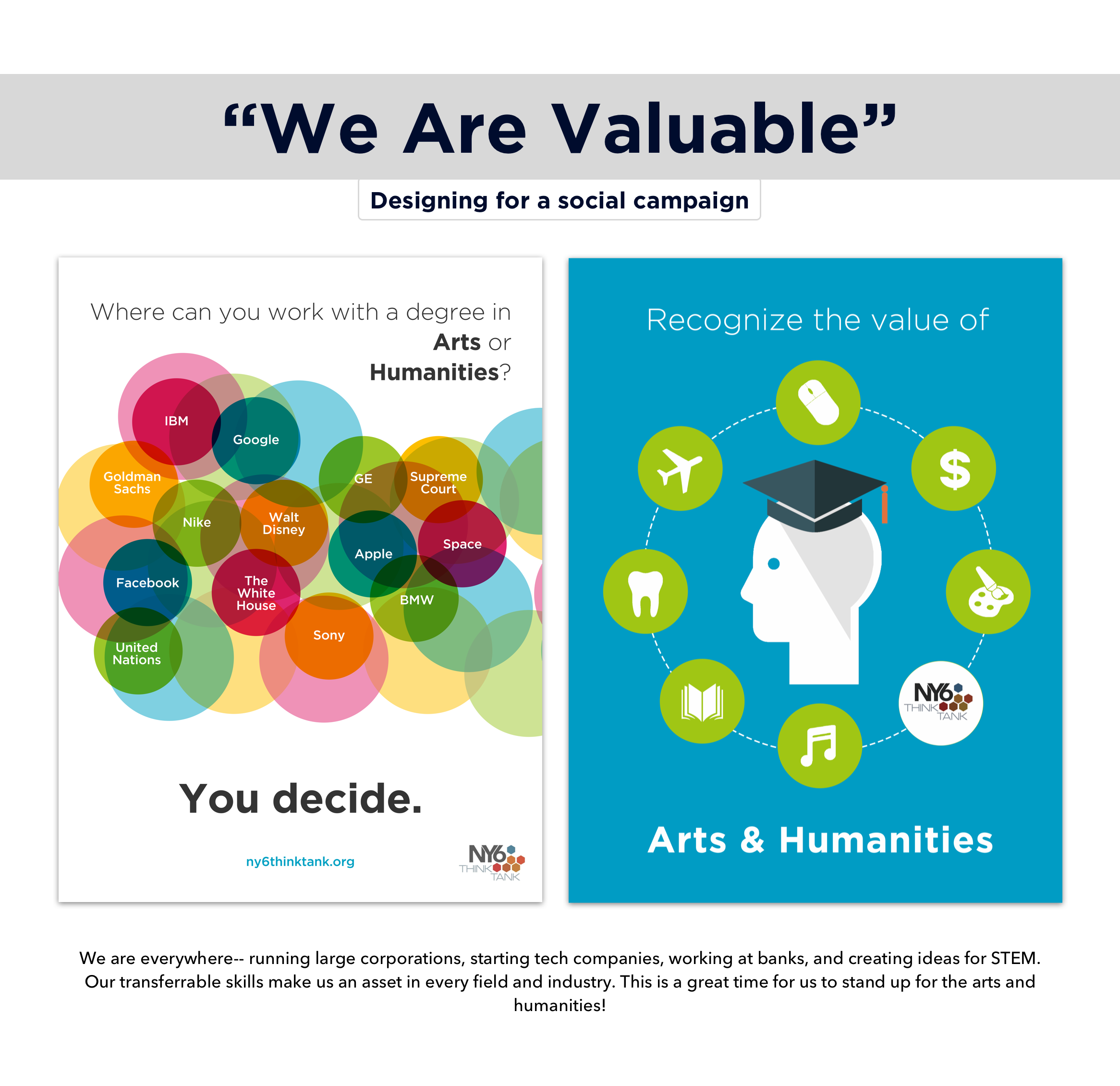 Created by NY6ThinkTank Designers Haicheng Lin and Terry Tucker
And why do the futurists of this world believe their peers should not leave school without the Arts or Humanities? Because, as Union College junior Nate Singer, a Fine Arts major and Mathematics minor and NY6Think Tank Fellow understands, the Arts and Humanities, "challenge the individual to find the ubiquitous properties that link us all." And when it comes to linking, Claire Mouflard, Visiting Assistant Professor of French at Union College and workshop participant, found herself inspired by "what this generation is able to accomplish when working together toward a creative and meaningful goal."
When the "futurists" at this workshop creatively linked ideas, they witnessed first-hand that the Arts and Humanities could lead them to accomplish meaningful change in their lives, their careers, and the world at large. Nick Ruth, who has been a believer in the value of the Arts and Humanities for as long as he can remember, hopes that students will come to understand that the Arts and Humanities are uniquely positioned to, "provide meaningful ways for us to know the world, and to situate ourselves meaningfully within it. They also offer us opportunities for creative responses to a world that is often wondrous, but also overwhelming or even seemingly bound up by intractable problems."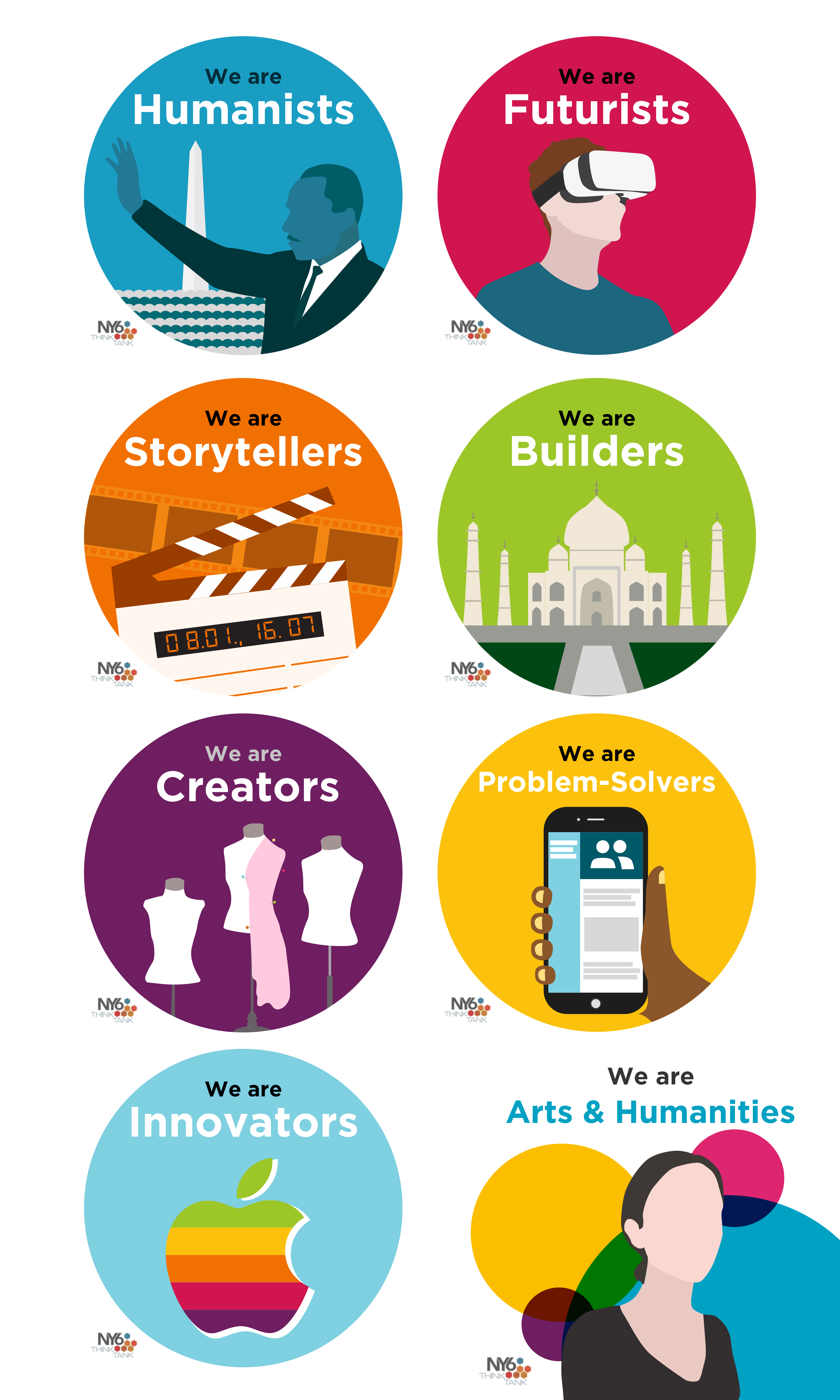 Created by NY6ThinkTank Designers Haicheng Lin and Terry Tucker
To unbind the place of the Arts and Humanities in today's world was at the heart of this workshop, at which Alex Black, Assistant Professor of English at Hobart and William Smith Colleges, was relieved to observe that,"the Arts and Humanities did not need defending, and students were excited by the kinds of paths the speakers' lives were taking. Each could look back onto their lives and see how they got to where they are now, but none could have been able to anticipate what they'd do while they were still students or recent graduates."
As captured in the NY6Think Tank event video, and as the successful 4Humanities "Student Shout Out" contest also readily underscores, our students and young professionals clearly demonstrate that any futurist of tomorrow should not leave school without the Arts and Humanities.