By Christine Henseler and Yasmine Van Wilt.
This is the eight of a series of interviews with extraordinary people who are using their skills and training as artists and humanists to improve their communities, challenge assumptions, and advance our understanding of the human condition.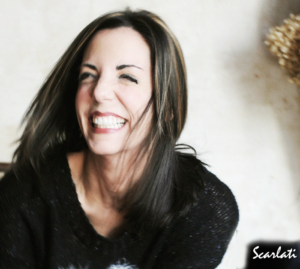 Photo by Anthony Scarlati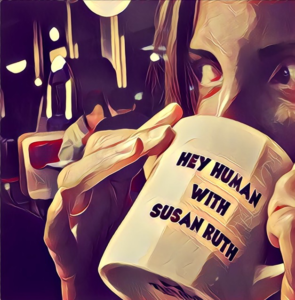 Image by Susan Ruth
Susan Ruth is an award-winning songwriter, recording artist, abstract painter, critic and podcaster. Her songs have been recorded by artists including Reba, Lonestar, Erdem Kinay and The United and have been featured in major motion pictures including Life on the Line, indie films including After Life, and television shows including MTV's Road Rules and The Real World. Her popular human interest podcast Hey Human has drawn a dedicated global audience.
You're a songwriter, recording artist, painter, producer, and podcaster. Can you discuss your process of creative discovery?
SR: I come from a family of curious minds.  Although I didn't study songwriting at college, I'd been writing poetry for much of my young life. This eventually led to my developing my craft, experimenting with performance, and eventually, leading to a career writing songs professionally, for a publishing company.  Painting came later. As with most things I do, I simply leapt and many, many paintings later, I'm still at it. Painting is a release for me. Unlike the discipline of songwriting, I let go and don't think when the brush is in my hand. I rarely have a game plan. The Hey Human podcast came about because I had been trying to grapple with an increasingly (seemingly) hostile world. I wanted to do something to help show my fellow humans that we are not so different from each other, at the core.
A nerdy, bookish humanist, I find that I benefit, as I believe most people do, from conversation with interesting people who study and practice radically different disciplines from my own. The conversations that have evolved from the podcast have really, I think, revealed to me that we exist in a kind of web, that we, fundamentally, are more alike than different. The podcast allows listeners to learn about the lives of people whom they might not otherwise meet.. I have interviewed FBI agents, neuroscientists, politicians and criminals. Some of the conversations have been disturbing, others challenging. I've spoke with a high-ranking KKK member, for example. I suppose I am on a mission to unearth the kernels of our psyches that are human, and humane, even if they are deeply buried. I often have guests, like the interviewee from the KKK, who have radically different worldviews…
Is it difficult conducting interviews with people, like the interviewee from the KKK? Do you ever find yourself needing to pull back from the conversation, or needing to abort the interview?
SR: I think my curiosity is never quelled. So learning about the lives and ways-of-being of others drives me. I don't need to agree with my interviewees. I actually don't even really need to understand them…sometimes simply having a conversation is enough. I think we really breakdown as a society when we stop speaking.Also, I've never met a stranger. I love meeting new people.However, I should mention I'm also very shy, unfortunately. I work very hard to overcome my innate shyness. So, yes, it is sometimes challenging. . .and sometimes, even frightening. It's also a lot of work since it's me doing all the steps, but it serves my own soul to hear other people's stories, even if their narratives are painful or disturbing. I want to know what makes people do what they do, how they feel about themselves and the universe. I love the big questions. In the conversations with other people, I discover aspects of myself that were often hidden. . .or about which I had little knowledge. I hope this is what other listeners discover too. I prefer to believe that all of us are really just trying our best, all the time, however good or poor our "bests" are.
Can you describe the future that you imagine for the arts and the humanities?
I'd like to think the arts will survive. I sometimes wish I'd been born in the 1700 when patrons were much easier to find. Although, in a sense, I think I am who I am despite the barriers to profit and the commercial difficulties inherent in the artistic forms I practice.I've asked friends who have quit their various creative fields about their walkaway secret but, I've never been able to do it. I am also fortunate to be able to do what I do commercially, to be supported by a strong relationship with a publisher that appreciates and markets my music. And I am developing a devoted following for the Hey Human podcast. This is really feeding me spiritually and intellectually. I think we all need these conversations, and I am heartened by the reception I'm experiencing.
What is next?
I'd love to see the podcast continue to grow. Maybe a manager/agent would come along and understand my vision completely. I'll keep writing, of course. I've got a lot of pots bubbling. I'm at a point at which I feel good about what I'm doing, and if audiences continue embracing what I create, I'll be thrilled. Honestly, I'm thrilled even if they don't embrace it. "It's the journey to Ithaca…" No one really knows where the destination is, right?
Do you feel that your self-identification as a feminist informs your work, or informs your attitude towards the humanities?
I believe knowing my own mind and being okay with people not agreeing with me or not liking me informs my work. A friend once said, "What anyone thinks of you is none of your damn business." That really stuck with me. I am empowered by my sense of self and because of that I have a fearlessness to create. I will stand at the head of the table but I don't mind sitting toward the back, either. If I live in that space, I think it allows others to live in their own, too. We're all just showing each other the way home, right?
What advice do you wish to give to young humanists?
It's okay to not know, but stay curious. You won't always be liked, but stay true. Sometimes only you hear the choir of angels in an otherwise silent room. Remember that the only way someone else knows you is through their own experiences and you can't know them except through your own. Listen actively, don't just wait for a turn to speak. Live. Love. Laugh. Cry. Embrace, and let go. Know your shadow, know your light, and shine it. Until we know ourselves, we cannot know others. And, be good to yourself. . .it's where all the kindness in the world begins. . .
Christine Henseler is Professor of Spanish and Hispanic Studies at Union College, NY. She has developed a website called The Arts and Humanities in the Twenty-first Century Workplace and directed the NY6ThinkTank, a community comprised of educators and students who wish to transform—rethink and rewrite—public conversations on the state of the Arts and Humanities. She has authored several books and articles on Generation X and Spanish literature and digital media, and she is currently working on two book projects on the arts and humanities.Associate Professor of Spanish at Union College. She works on topics pertaining to Generation X, twenty-first century Spanish literature, media and cultural studies, and the humanities. Follow her on Twitter @henselec.
Yasmine Van Wilt, PhD and FRSA, is an Artist-in-Residence at the Columbia University GMHP and a Mellon Fellow at Union College, NY. She is the CEO of Van Wilt Records and is an award winning singer, songwriter, recording artist, dramatist, producer and scholar. Her work has been funded by the National Endowment for the Arts, the Andrew W. Mellon Foundation, the Swedish national government, the European Union, and many other granting and awarding bodies and has reached Top 40 charts in the United States and Europe.