By Megan Brown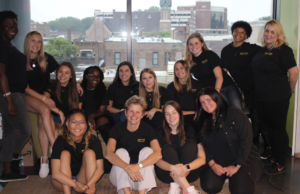 In a world that is seemingly angled towards math and science in education, Professor Christine Henseler of Union College is making strides to rebalance that trend. Professor of Spanish and Hispanic Studies, and a teacher of courses in English on Social Change and the Arts and Humanities, Henseler is using her ingrained artistic ability to teach her students what she sees as some of the most imperative skills in life: communication and critical thinking through creativity and humanity.
Henseler was born and raised in Germany, Spain, Brazil and the US and was constantly painting, drawing and making as a kid. She's part of a family of engineers, so working with her hands is in her blood.
"I really enjoy building and making. I build my own decks, do my own plumbing, paint my house I find it tremendously rewarding because it balances out my academic work," Henseler explained.
Since she was young, art school seemed like the perfect fit but with no mentor and no money, it wasn't feasible. Henseler refused to let that put a halt in the manifestation of her creativity.
During her undergraduate years Henseler earned a degree in Journalism and Advertising, while double majoring in Spanish. Because she had gone to high school in Spain, she was soon asked to teach a Spanish class as a senior undergraduate at the University of Kansas.
"I was terrified, but once in class, I became increasingly energized and realized that teaching itself was an incredibly creative profession."
From there, she set sail as a creative and innovative professor.
"In a world in which we are constantly pulled into different directions, so few of us have the chance to take a moment to think," she said. "I believe that making space for reflection is not only an important component to our individual health and well-being, but it is also the space we need to allow creative innovation to flourish more fully. Without those spaces, we cannot build a healthier and more meaningful society."
With a focus on human connection, the aspect she considers most important, Henseler is striving to let students find their own voices through both the creative process and critical thinking. Henseler believes that this combination will fulfill her role in her students' lives— towards the awareness of the value of the community over the individual and self-reflection as a counter-balance to our outward-facing and technology-driven society.
Her creative process in achieving these goals, though, is no easy task.
In a time period where public high schools, and most schools for that matter, have eliminated art programs out of their core curriculum and driven learning through standardized testing, it is increasingly difficult for students now to appreciate the social, cultural and economic significance of creativity and imagination, she says.
"Students are given the impression that certain subjects matter less and right answers matter more…We are building individuals and institutions that are lopsided," Henseler said. "I believe that our system of education has not done a good enough job at providing a balanced and well-rounded education that inspires our children to learn." As educator and author Sir Ken Robinson astutely explains in his article 'Mind the Gap: The Creative Conundrum,' our education system is suffering the consequences of several misguided principles that have stigmatized as marginal the value of creative thinking.
Robinson talks about fighting against the desperate need for creative innovation to address social problems. These issues are a huge part of why Henseler advocates tirelessly for the arts and humanities, as can be seen on the website she created called Arts and Humanities for the Twenty-first Century Workplace and an advice guide she is currently developing for and by students called Arts and Humanities: Don't Leave College Without Them.
In making a class, Henseler says that her process is driven by student interest and solid, foundational learning.
"When I start to create a class, I think about an important or driving theme or topic whether this is in the Hispanic speaking world or in the world at large, a topic like social change, innovation in education, or sustainable development, and then I develop readings and exercises that both lead to new knowledge and to new skills, foundational abilities like clear, concise and effective writing, deep critical analysis, smart research techniques, foreign language proficiency, cross-cultural competencies, and most importantly, creative thinking."
It is this set up that is the driving force between the imagination and productivity behind her classes. She thinks of a topic with massive potential for not just discussion, but creative implementation of a solution. Henseler always has a vision, and she is there to guide her students through and let them develop their own as creative individuals. For instance, she will use mind-mapping and design thinking to help move her students' research projects into less explored areas or toward more cross-disciplinary, or "remixed" research topics. Or she will ask students to think about writing for broader audiences by converting their scholarly research into magazine editions or infographics.
"I try to build a very warm, compassionate, open and supportive class environment where it is absolutely OK to make mistakes, to share silly ideas, and most importantly, to play. I myself put my own playful self out there and I often expose my own vulnerabilities," Henseler said. When students see that I am willing to do that, they do too. The result is a learning community driven by a collaborative care for learning and supporting one another in that process.
She added that she was inspired by the "fearless courage" of the students in her "Millennials and Social Change" course she taught for the first time the spring of 2018. Every student was given the opportunity to write a personal narrative about a change they wished to see in their lives and communities The essays were then compiled into a book, now being sold on Amazon for $9.50, with all proceeds going to a local charity. Not only was the book created through a totally democratic and student-centered process, but Henseler also empowered her students to find their voices and expand their creativity in writing.
Kathleen Sinatra '21, student of the "Millennials and Social Change" class, spoke on her experience with Henseler as a professor: "There is no such thing as impossible to Christine, and she makes you believe that too. Instead, there are endless opportunities available to you and she makes that evident starting in the classroom. Christine is not only teaching you necessary academic, and life skills, but she is helping you to develop your interests. As a teacher, you could wish for nothing more than someone who encourages you to reach your full potential and discover your passions both inside and out of the classroom."
Henseler's giant imagination gives students the opportunity to exceed their perceived potential. An imaginative leader allows students to follow in her footsteps, and generously supports students in finding their own voices and visions.
One space where Henseler allows her students to be creative is online. Many of her classes are involved with designing a webpage through a free website platform called Weebly or creating a magazine through a platform called Lucidpress. Not only does this allow for students to be able to include multiple media–images, video, audio, social media—in their presentation of ideas in a world that is rapidly becoming electronic, but it also allows for students that are more "STEM-brained" or "tech-savvy" to excel in a space they, too, are comfortable in.
When asked if Henseler would quit her job and go to art school if the opportunity was there, since that was her dream since day one, she said, "Believe me, I have thought about it. And if back then I had had the money, I just might have… but at this point in my life I've learned that creativity can be found in any and all professions and disciplines and I can be very creative through my teaching, my writing and building programs in higher ed. That said, if I won the lottery today, I would use it to design and develop a university-community partnership that celebrates art and technology education through a holistic and inclusive social and sustainability lens, crowd-sourced by the community members themselves.
Henseler then spoke on her dream for her students. She wants to make education possible for those that "don't fit the mold," because she didn't fit that mold herself.
"I was one of those kids who, today, would never make it to college. I was a creative thinker. I never learned to take tests. So if college admissions had only based their evaluation of me on my SAT scores, I would not be talking to you right now. Needless to say, I am not a proponent of testing as a way to measure or evaluate students' potential. In fact I believe that by doing so we are cutting out a large group of incredibly innovative and creative young people who don't just come from different and gloriously diverse backgrounds, but also think differently. Similarly, when high schools, colleges and universities cut the arts and foreign languages they cut off vital pathways for students with different cultural histories, heritages, expressions, and ways of thinking. Together, they reduce the potential for real social and scholarly innovation.
Henseler always talks about her love of building bridges between different people from different backgrounds. She says, "I love developing happy, positive and constructive spaces for learning, interaction, and moving projects forward effectively and efficiently."
Creativity and imagination in today's curriculum is slowly fizzling out, but Henseler will always be striving to maintain creative minds in academia.
"There is nothing that makes me happier, and that's why I love to teach, and I believe that creativity and creative problem solving is the wave of the future."
About the Author:
My name is Megan Brown and I am a junior at Union College double-majoring in Political Science and English and minoring in Spanish. I have loved to write ever since I learned to read so I have taken advantage of every opportunity to enhance my writing skills. In this particular case, I was interning for a local magazine when I became inspired to write an article about my amazing professor, and mentor, Christine. She has inspired me to embrace creativity and imagination amidst the very rigid and powerful education system that is in place today. Aside from writing, I'm also a member of the varsity tennis team at Union. In my down time, I enjoy painting, rock climbing and spending time with family and friends.
About Christine Henseler:
Christine Henseler is Professor of Spanish and Hispanic Studies at Union College in Schenectady, NY.  She a co-leader of 4Humanities.org and editor of the books, Extraordinary Partnerships: How the Arts and Humanities are Transforming America and  Arts and Humanities: Don't Leave College Without Them.