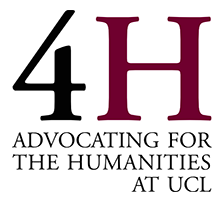 I will collaborate with fellow 4Humanities International Correspodent Eva Kekou and with conference artist in residence Dr Lucy Lyons in crafting a report including photos and the sketches Lucy made during the event.
In the meanwhile here's the three Storify archives of the tweets tagged with #4hum (excluding retweets) which I created throughout the day, one per session. The fourth session was a final discussion to close up the symposium.
The presentations took place in three different sessions of two sets of speakers each.
Professor Alan Liu, University of California Santa Barbara, and 4Humanities founder: "Creating a Humanities Advocacy Media Plan"
Dr Rüdiger Klein, European Alliance for the Social Sciences and Humanities: "Making the Humanities Count – the dawn of a new era thanks to globalising Digital Humanities?"
Amy Westwell and Oliver Milne, The Free Hetherington Campaign: ""Occupy, Organise & Origami" The Free Hetherington, Student Radicalism and the Democratic Intellect"
Neil Griffiths, Arts Emergency: "The Arts Emergency we all face…"
Dr Anna Upchurch, University of Leeds, and Dr Eleonora Belfiore, University of Warwick: "Redefining 'value': the arts, humanities and the challenges of contemporary life"
Professor Andrew Prescott, King's College London: "How the Humanities can Help Transform Science"
Hopefully these collections will be helpful in some way to demonstrate some of the value of what happened today.