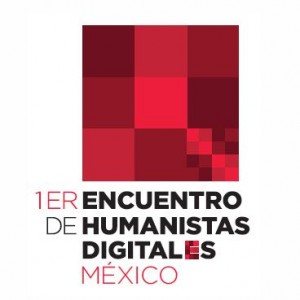 [For an English language version of this post, please click here].
El 17 y 18 de mayo de 2012 la Red de Humanistas Digitales (RedHD) celebró el 1er Encuentro de Humanistas Digitales en la Biblioteca Vasconcelos, en la Ciudad de México.
Este encuentro  fue realmente el primer evento académico de su tipo en México, introduciendo formalmente el concepto de las humanidades digitales en el panorama académico mexicano. Asistieron más de 200 académicos de México y otros países, y combinó conferencias magistrales, páneles, sesiones de pósters y presentaciones a distancia.
En las palabras de la Dra. Isabel Galina, presidenta de la Red HD , "sabiendo que en otros países existían grupos digitales, de ahí la importancia de traer este concepto para América Latina, con el fin de enriquecer las perspectivas, acciones y búsquedas en torno a este concepto."
Se abordaron diversos temas, incluídos los recursos digitales para las humanidades, la codificación de texto, museos y bibliotecas digitales, el papel de las humanidades digitales en la enseñanza y la investigación, la propiedad intelectual, innovación, multimedia, etc.
El programa completo del evento se puede consultar en un archivo PDF que está disponible aquí. Élika Ortega, estudiante de doctorado en Estudios Hispánicos en la Universidad deWestern Ontario, recopiló algunas de las presentaciones, documentos y otros materiales relacionados con el evento en un sitio Yutzu, aquí.
La conferencia, que también fue transmitida a través de Internet de modo abierto y alentó la participación en línea a través del hashtag #RedHD, fue co-patrocinado por el Consejo Nacional para la Cultura y las Artes (CONACULTA) y la Universidad Nacional Autónoma de México (UNAM), a través de su Facultad de Filosofía y Letras, el Instituto de Investigaciones Bibliográficas y la RedHD.
La cobertura de prensa a nivel nacional fue amplia y muy positiva, difundiendo a un público más amplio la importancia y significado de las humanidades digitales como disciplina académica.
En próximas entregas realizaré entrevistas con algunos integrantes de la RedHD, para ayudar a dar a conocer el trabajo que se encuentran realizando.
[For an English language version of this post, please click here].