4Humanities@UCSB will hold its initial meeting of the 2013-14 academic year on Thursday, November 7th (noon – 1:30, South Hall 2509). Continuing and new participants in the group are invited to come discuss the important recent report titled "The Heart of the Matter" (summary [PDF]) (full report [PDF]) which the American Academy of Arts & Science's Commission on the Humanities and Social Sciences produced for its report to the U.S. Congress.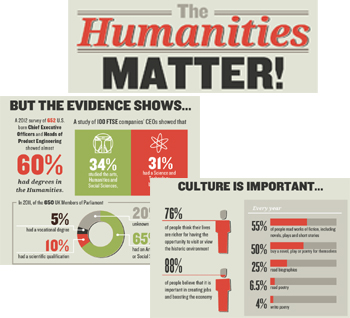 In addition, we will discuss the infographic recently produced by the international 4Humanities initiative titled "The Humanities Matter!. (about) (full poster [PDF]).
Later in fall quarter, 4Humanities@UCSB will meet to continue work on its practical projects in digital-based advocacy for the humanities and its collaboration with allied groups elsewhere in the nation and world.
4Humanities@UCSB functions both independently as a Research Focus Group of the Interdisciplinary Humanities Center (IHC) at UC Santa Barbara and as a local chapter of the international 4Humanities.org initiative. As a local IHC Research Focus Group, 4Humanities@UCSB meets periodically during the year around a few topics and readings–e.g., core issues in public discourse on the humanities, current media technologies for advocacy, etc. Beyond discussion-style activity, 4Humanities@UCSB also has a practical production-shop dimension. The group will create content for 4Humanities by writing posts, starting new group projects, contributing to a sitewide bibliography, and so on. The group will also link up with local chapters of 4Humanities now forming at other universities.
Readings for Nov. 7th Meeting:
"The Heart of the Matter" (summary [PDF]) (full report [PDF]) — Please peruse the main narrative parts of the report.
"The Humanities Matter!. (about) (full poster [PDF])
Agenda for Meeting:
Introductions

a.

Research Focus Group co-conveners:


Linda Adler-Kassner, Claudio Fogu, Alan Liu

Lead research assistant for 4Humanities & 4Hum@UCSB

:
Lindsay Thomas

Self-introductions of meeting participants

.

The International 4Humanities Initiative

Mission

: Humanities advocacy assisted by digital humanities community.

Current leadership

: Christine Henseler (Union C.), Alan Liu (UCSB), Geoffrey Rockwell (McMaster U.), Stéfan Sinclair (McGill U.), Melissa Terras (U. College London)

Local chapters

: UCSB, CSU Northridge, McGill U., U. College London, NY6, [UCLA?]

Projects

:

Upcoming Events

:

Today's Discussion: "The Heart of the Matter" report: